Introduction
Welcome to my guide for the expert-advisor Earth.
You can find the product here: https://www.mql5.com/en/market/product/74578
You can find the live signal here: https://www.mql5.com/en/signals/1263438
Earth is an EA designed for EURUSD, so it is not recommended to use it elsewhere. 
The timeframe has no real impact on live trading but in order to have better test quality, the recommended timeframe is M1. 
This EA requires an Hedge account (not working on netting account), leverage 1:30 and above recommended.
The recommended broker is ICMarkets.
Concept
The idea behind Earth is simple: Identify and use patterns that have worked in the near past using homemade indicators that differentiate it from anything else on the market.
The EA uses a list of strategies:
Each one is independent.
Each one has a signal, a TP and an SL.
Each one

 

is regularly updated depending of its performances.
This implies a perpetual evolution of the algorithm.
This process was entirely created and developed by myself without the using external software outside Metatrader.
Updates
As said above, Earth is a new concept of EA which needs to be updated frequently.

-Do I have to update it?
I very, very strongly recommend to update the EA. If you don't, you will be gradually losing performance.
If this is a problem for you, you can follow my signal which is automatically updated,
so you won't have to do it: https://www.mql5.com/en/signals/1263438
-How to be inform when the update is live? 
You will receive an MQL5 private message as soon as the update is available. I also alert on my discord myx.gg/discord in the channel #earth-EURUSD.
-How can I update Earth?
Open the Navigator: View->Navigator (ctrl+N)
Select 

Purchases:

Market->My Purchases
Select Earth and press the update button. (If you don't see the update, restart mql5. Sometimes it takes few hours to be display inside MT5)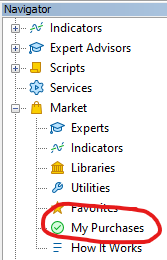 Risks
Earth is a recent experimental expert-advisor. It is important to consider that this EA does not have a long enough history to confirm its performance over the long term.
It uses past data to anticipate a high success rate, however the outcome is not guaranteed. Always remember that the market is unpredictable.
Sometimes people come to me shocked after installing Earth to tell me that it has hit several stoploss. This Expert-Advisor is necessarily going to hit some SL. You must understand this and manage your exposure in accordance with your risk profile. 
Earth could also be impacted by unforeseen events like a blackswan. This would impact the market by bringing high volatility, making it more difficult to read the pattern that we see in a more classic market.
There are several ways to manage your risk.
The risk per trade, the maximum number of trades, the equity SL and TP etc..
The risk per trade defines the percentage of the balance that will be lose in case of a SL (if the balance is enough, otherwise it will be higher).
The number of trades if important to combine with the risk per trade. If you set a risk per trade of 5% with 10 trades, you are willing to lose 10*5% = 50% if 10 trades are opened on the same period.
If you don't want to risk too much or if you want to secure your profits, you can set a limit with the equity SL & TP, the EA will stop trade once the limit is reached.
Pricing
Earth's price includes the cost of maintenance, which means hardware, electricity and operating time.
The system of monthly rental allows to not expose the customers to a stop of the updates which would make the robot less efficient over the time.
This system also allows you to reinvest your profits to cover the cost of the Expert-Advisor.
Each month in profit (based on my signal), the monthly cost will increase, each month in loss, it will decrease.
Inputs (UNFINISHED PART)
-Account type: Select your broker account type between ECN and Standard. It will calculate TP and SL depending on your account type.
ECN: ECN accounts have low spread, (usually 0) but have a commission per trade.

Standard: 

Standard accounts have a larger spread but no commission. 
–Volume calculation type:
only_initial_lot: Select this option if you want the order to always have the select initial lot.

risk_per_trade: Select this option to determine the order volume by the risk on your balance, in percentage. For example: If I have a 10,000$ balance, and I use 1% risk per trade, each SL hit will cost around 100$. 
–Percentage risk per trade: Define the risk per trade  if you have chosen the risk_per_trade option.
–Initial lot: Define the initial lot if you have chosen the only_initial_lot option.
–Maximum lot size per order: Define a maximum lot size that the EA will use for each order.
–Use trailing: Choose if you want to activate the trailing stop (choose false to deactivate). I do not recommend to enable this option.
–Trailing start: Set the distance to start the trailing if the trailing option is true, in points.
–Trailing distance:  Set the trailing distance if the trailing option is true, in points.
–Maximum spread: Define the maximum spread to open an order. Set 0 if you don't want to filter spread. If active, or that have a spread above the limit will not be open.
–Maximum number of orders:  Defines the maximum number of orders that the EA can open at the same time. If you set 0, the EA will not open order. This number is important because it i
–Earth chart color: Choose if you want to use the Earth custom chart color. Using false will use the default color.
–Magic number: A unique number for the EA to identify the orders. Use a different magic number from your other EA.
–Equity TP: Set an equity TP. Set to 0 to disable this feature. 
For example, if you start with a 300 usd balance, you can set a target of 500 usd. If the equity goes above 500 usd, the EA will close all orders and stop the trading until you change this limit or withdraw your balance.
–Equity SL:  Set an equity SL. Set to 0 to disable this feature. 
For example, if you start with a 300 usd balance, you can set a stoploss of 100 usd. If the equity goes below 100 usd, the EA will close all orders and stop the trading until you change this limit or adjust your balance.
Settings
There are many ways to manage your risk. I'll summarize it all in a simple table:
| | Low risk | Medium risk | High risk | All in  |
| --- | --- | --- | --- | --- |
| Percentage risk per trade | 0.5% | 1% | 2% | 5% |
| Maximum number of orders | 3 | 5 | 10 | 20 |
Recommended broker
Some people can see that they have different results between their Broker and my Earth EURUSD signal. 
Indeed, the EA Earth trades according to the data it receives from the broker and the values that some indicators may have. This information comes directly from the broker via the data received in real time, but also the liquidity available. The brokers do not use the same data and liquidity providers. This results in a possible disparity of signals from some brokers, especially those of poor quality.
My recommended broker for Earth is ICMarkets.
I have been working with ICMarkets for several years and it is by using their data that I develop my EAs. That's why I recommend this broker.  
What people think about ? They have 4.9/5⭐ on Trustpilot for ~20000 reviews.
Why do I use ?
– Zero spread on major pairs
– Fast trade execution, ideal for an Expert Advisor
– Effective support that answers my questions in 2 minutes
– Simple deposit & withdrawal
– Access to the 1:500 leverage
You can try on a demo account for free.
Support my work by using this link: https://www.icmarkets.com/?camp=56886
Forex rebates 
Forex rebates are a portion of the transaction cost that is paid back to the client on each trade, resulting in a commission discount, a lower spread or a cashback that you can directly send to your paypal account. This improved win ratio or help you to pay the VPS each month.
Many traders initially believe there must be higher costs elsewhere to compensate, however there is no catch and rebates truly reduce the costs of the transaction and improve their bottom line.
-How do forex rebates work?
When you link a new or existing forex trading account, the broker pays the rebate provider part of their spread or commission profit for every trade you make as compensation for referring a customer to them. They share the majority of their revenue with you, paying you a cash rebate for each trade you make as thank you for signing up with us.
If you already have a trading account (like ICMarkets), you can connect it to cashbackforex in order to have a commission discount like I have on my signal account. It just takes 2 minutes to setup, and it's free!
I've been using this service for couple years now and I can personally recommend it. 
If you want to support my work, please use this link: https://www.cashbackforex.com/%23aid_351776.
Example: Here is the concrete application of the spread reduction on my Earth signal, it took me 2 minutes to make the request.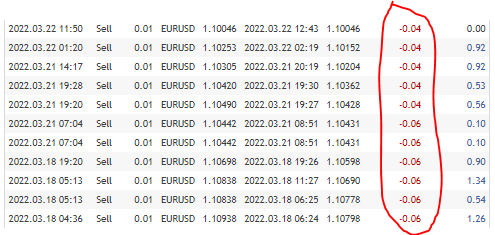 VPS
I use the same Windows VPS for more than 2 years now for my personal EAs & my signals. They offer a execution (for ICMarkets select Piscataway server).
It is the best price/performance ratio I have found so far. You can install multiple metatraders on windows. 
Give it a try: myx.gg/vps
FAQ (UNFINISHED PART)
coming soon
Conclusion
Earth is an expert-advisor that I have been developing for several years and that requires a lot of my time. After many, many iterations, the results are getting better and better. 
I will continue to improve it over time to always outperform my goals. I am also testing other pairs that I may add in the future. 
If you like my work, feel free to leave me a review.
Have a good day, 
Arthur